Kobe Jones is an option of Japanese food if you prefer a more modern take with innovative dishes and unique tastes. The extensive menu offers a wide range of options including a selection of Kobe Jones signature dishes which are an absolute must.
Prepare to salivate as you scroll down: (Don't say i didn't warn you!! hehe)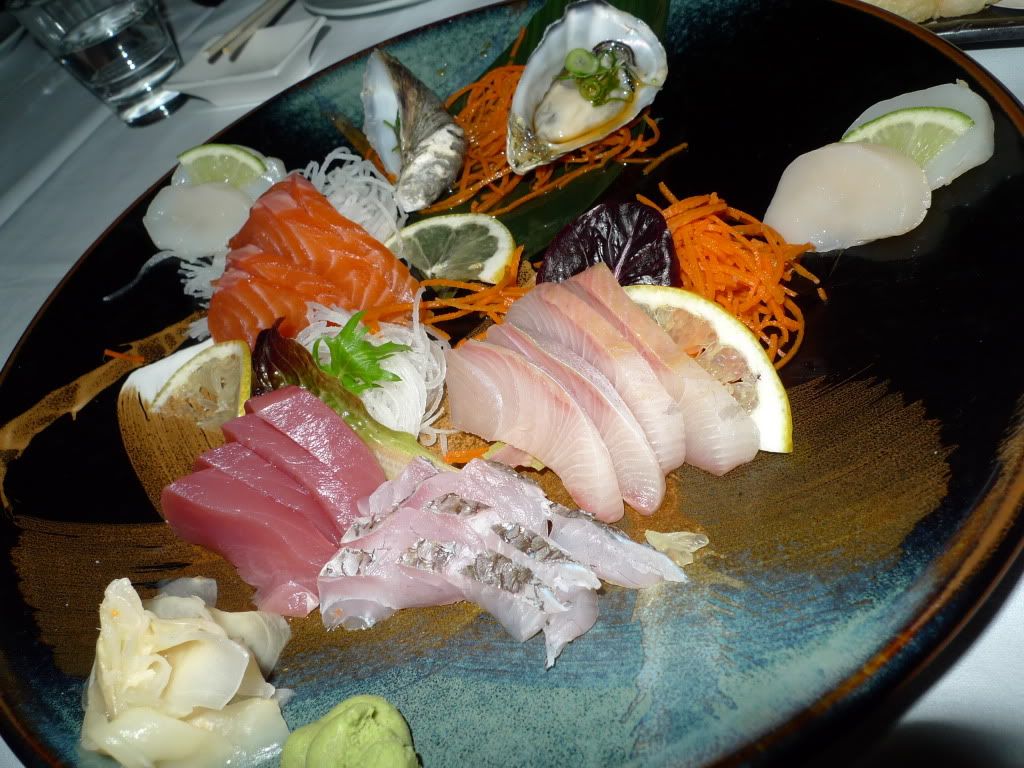 Sashimi Platter- chef's selection of sashimi inclusive of kingfish, yellow tail, oyster, scallop, salmon, snapper.
This platter of sashimi was fresh and melts in your mouth.. If only it wasn't
64aud
, i'd gobble down the entire platter to myself!!! Too Heavenly~~
♥ ♥ ♥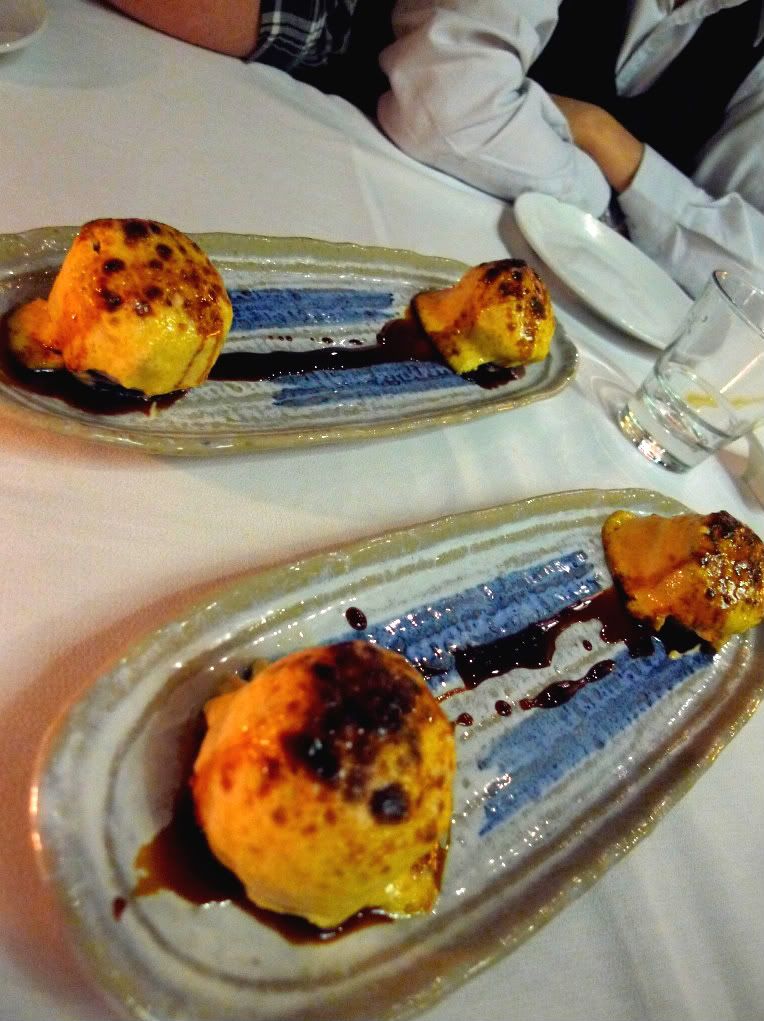 NUMBER ONE SPECIAL- 21aud
two pieces of crab salad with avocado wrapped in kingfish and baked with our secret sauce
(additional pieces 10.0 each)
I know, i know.. The price is ridiculous. 10 aud for one fish-ball sized dish?? Who are they kidding?
But the rich creamy special sauce was explosively scrumptious, the ball just burst in your mouth and you jizz in your pants. That's scientifically proven!! I wanna know what's in their DAMN SECRET SAUCE!!!! Better ask Nooei for secret recipe since he used to work there.. =P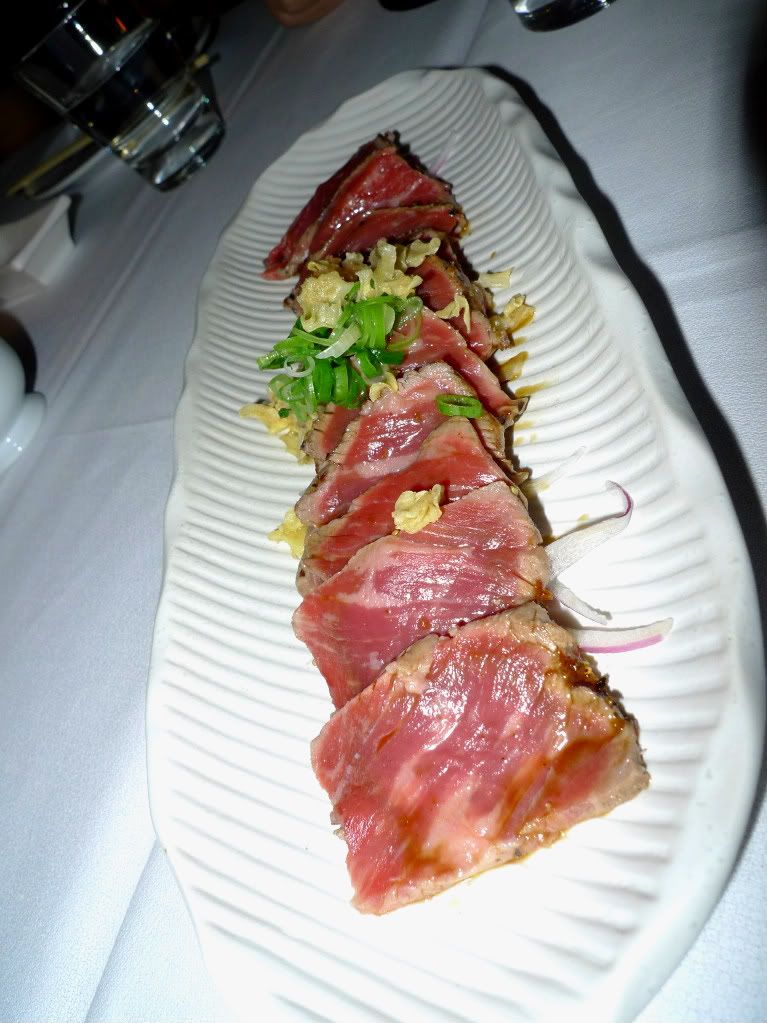 Wagyu Tenderloin Tataki - 39aud
seared and chilled, served rare with garlic, ginger and ponzu sauce.

The beef was lightly seared on the outside, left very rare inside, thinly sliced and drizzled with a citrus soy sauce. Texture was perfecto!!! Too Sensational...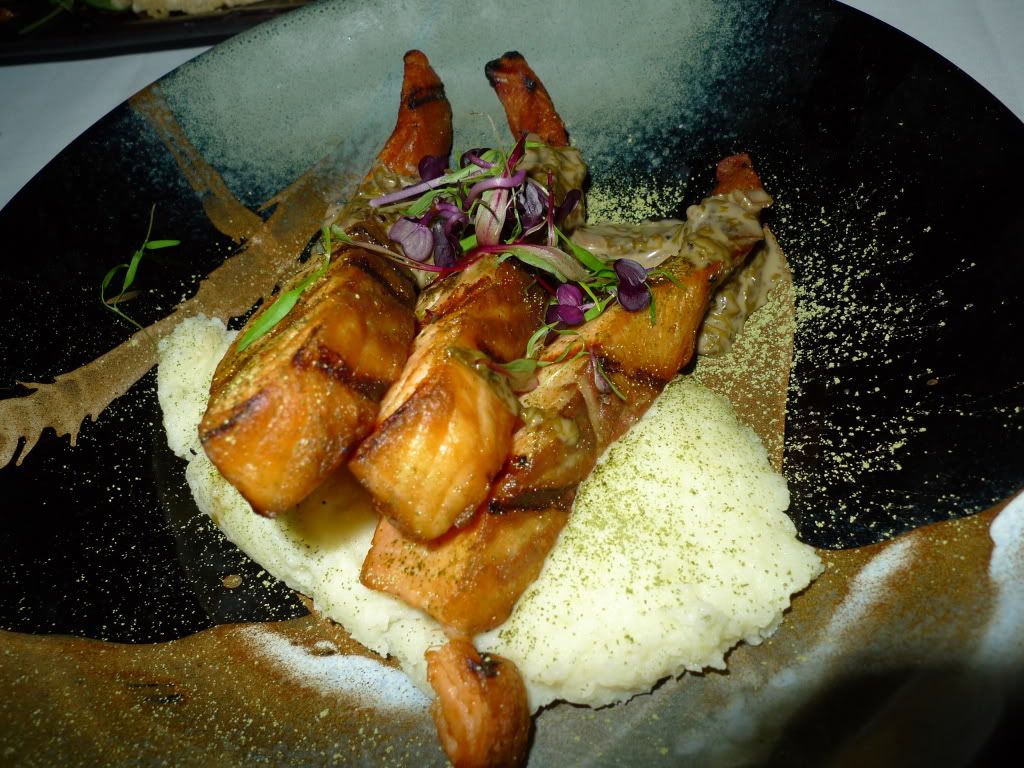 Green Tea Salmon (32 aud)
warmed six hour cold smoked seared smoke salmon, marinated in green tea, served with nori cream and wasabi mash
It was a pretty ordinary dish as the salmon has little (almost none) green tea taste.. but wasabi mash was quite interesting..
Baked Dynamite Scallops-
33aud
Spicy Hot! Scallops baked on a bed of rice in Kobe Jones secret sauce with fresh chili sauce and sprinkled with tuna flakes
Photos might not do justice to this dish. It look like some messed up pile of crap.. But it's far from the truth.. It was an explosion of flavor, sweet secret sauce with a fiery burst in your mouth. It was flavorful and addictive really..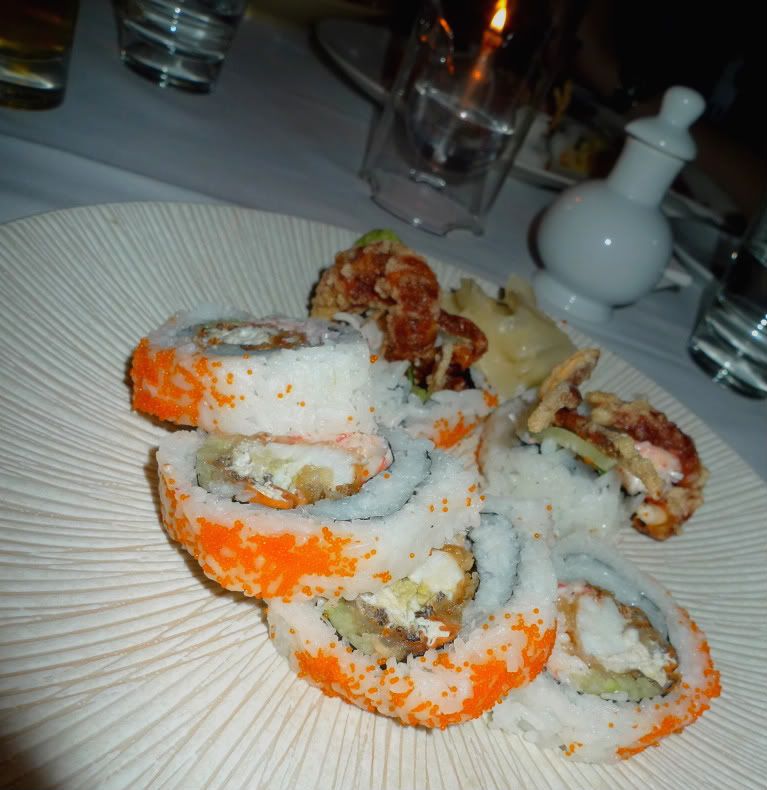 Spider Roll- 31 aud

Cruncy soft shell crab with avocado, crab salad and cucumber with smelt roe sprinkle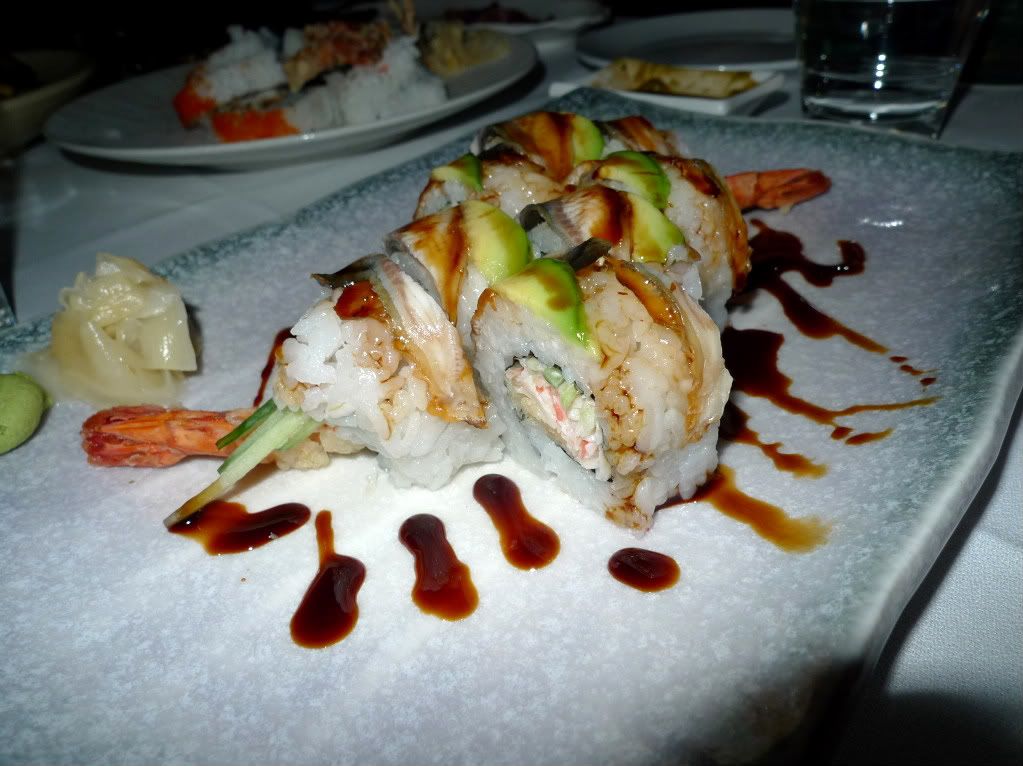 Super California Roll- 27 aud

Tamago, crab salad, avocado and cucumber roll, layered unagi and smell roe
Love their sushi, fresh and rich in flavor.
It's important how the sauce does not outshine the taste of sushi itself, which is in my opinion, how a good sushi should be. Dont you reckon? I'd be damned to eat a soggy sushi filled with taste of the sauce. It's almost as good as eating soy sauce congee..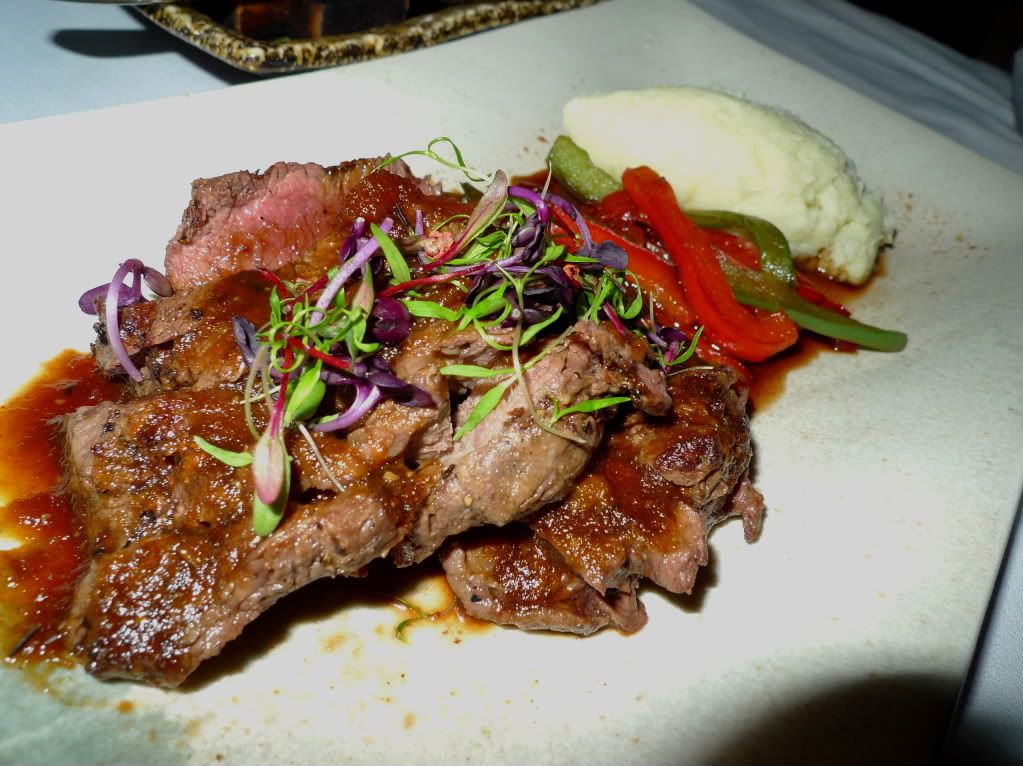 Tenderloin Amiyaki grilled ansd sliced, served with wasabi mash, stir fried capsicum and amiyaki sauce.

The meat is tender and soft, medium cooked. It's almost a perfection until you look at the price- 41aud. FML.. Good things in life do come with extortionate price, dont they?? Paid 41dollars for something that wasn't even a quarter filling..
Next up,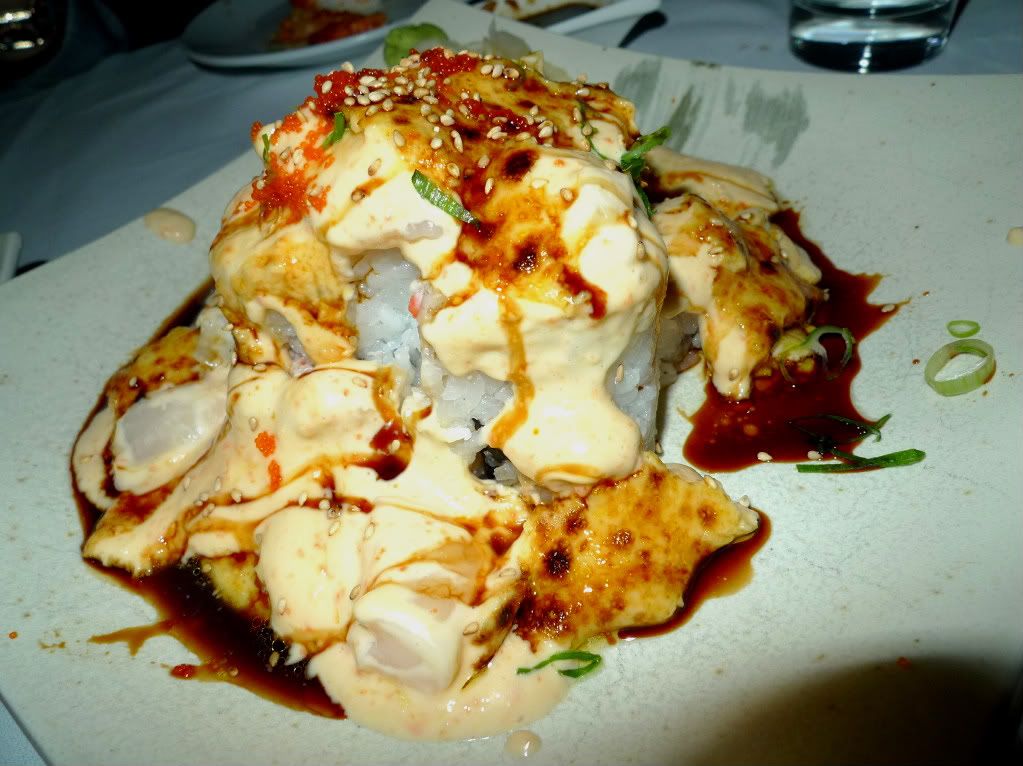 Dynamite Roll- 21aud
Almost similar with the baked dynamite scallop with same sauce plus extra mayo. The sauce was so addictive that the boys took over the leftover sauce for their plain rice..
Happy Belated Birthday Matt!! Happy Sweet 16!! (still 16 after 5 years... -.-)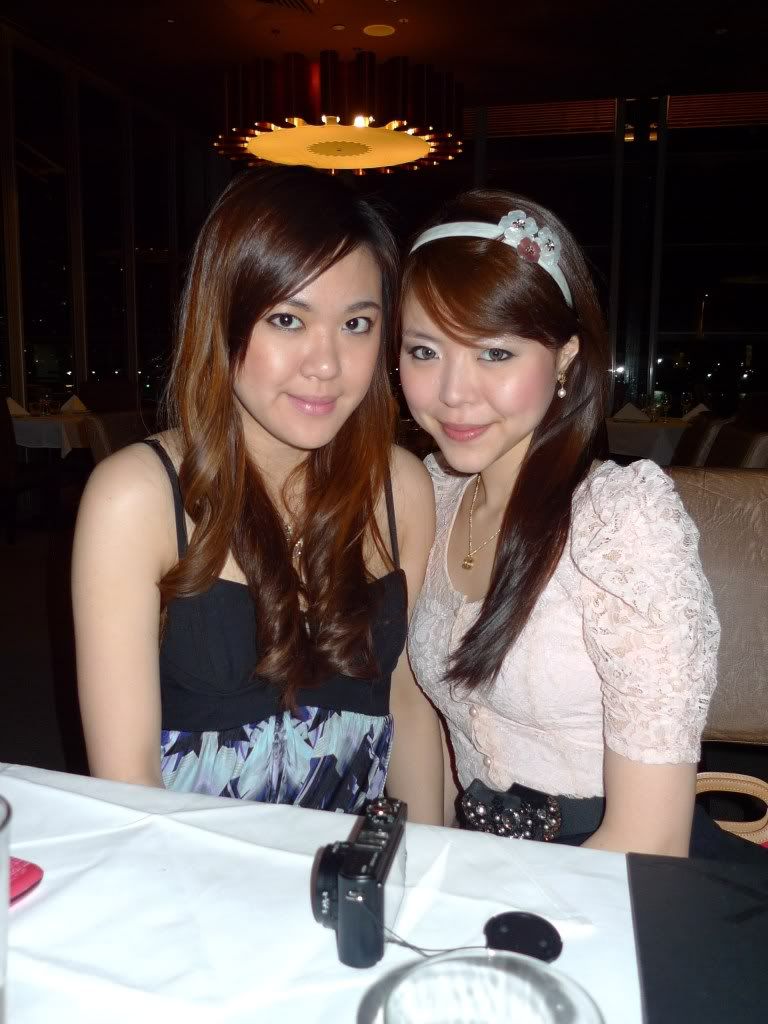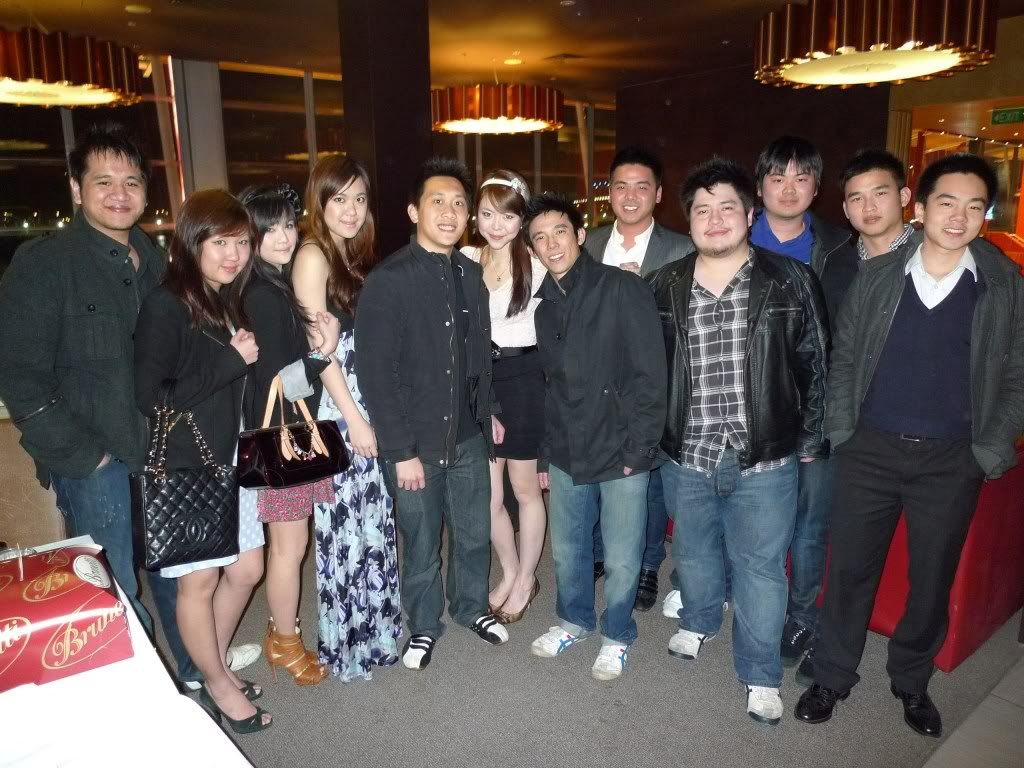 Group picture of the satisfied diners
It's not my first time visiting Kobe Jones. And despite most of the reviews that are not favouring this restaurant, Kobe Jones has never disappointed me before.. Love the ambience, service might not be perfect but it was good. I mean, who wouldn't wanna please a party of 12 with the total bill of up to 1k aud!! haha
Overall: 8/10
(If you have extra money to splurge at the end of the month, or that extra weight in your wallet is your excess baggage you wanna get rid of, this is the place to go!! hehe)