Stay in Melbourne and Care for a calories-overloaded midnight snack?
If you're a nocturnal like me and my sisters, you'll probably experience those late-nights when you just need to go out for a drive, and munch on something (other than those dry boring chips at home). And being in Melbourne, we are being stripped off the luxury of having mamak at anytime of the day/night, or that artery-clogging Ramlee burger at 2am in the morning. In fact, to stumble upon a midnight eatery here is as rare as digging for gold at your backyard.
Ms. Jazz briefly introduced Stokers as the night-snacker's favourite pancake place back when she paid a visit to Melbourne in Feb. She totally just stole my spotlight because I was the one who brought her to this place back when she was still studying in Melbourne. hehe
You must be thinking this "ulu" (secluded) place is almost impossible to travel to and it's so far that you rather just settle with Maccas (Mc D) . But truth is, if you're staying in the city, it only takes you about 10-15 minutes drive on Eastern Freeway to reach here. Almost stress-free (with a car, that is.)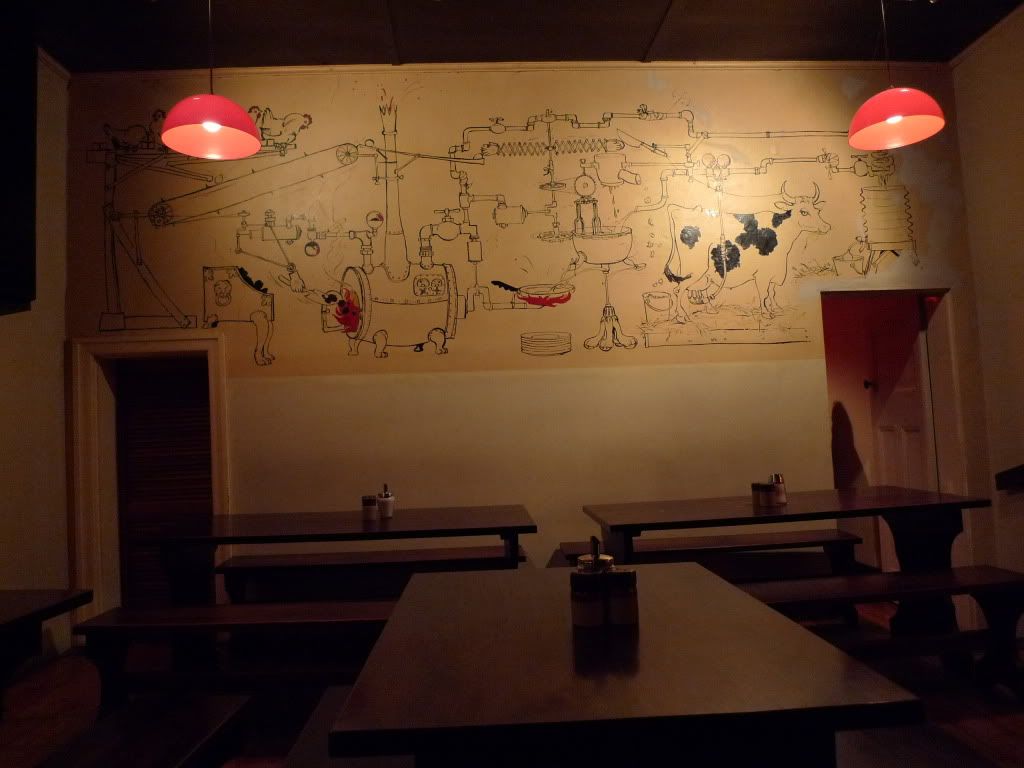 I was here last Friday night at about 1am..
It was pretty empty then. I guess most midnight owls were all out partying while sad little pathetic lifeless me who is mugging for my final resort to my only comfort non-alcohol snack.
Interior in Stokers is very cosy and old-fashioned. It gives u a very warm homey feeling, and with the dimmed light and Olivia Ong kinda lounge music, you can almost fall asleep on the table. hehe
The first time i was here, i was so amazed by the "oppposite" clock which turns anti-(normal)-clock-wise. Until today, i still catch myself staring at the clock in deep intense, still damn amazed.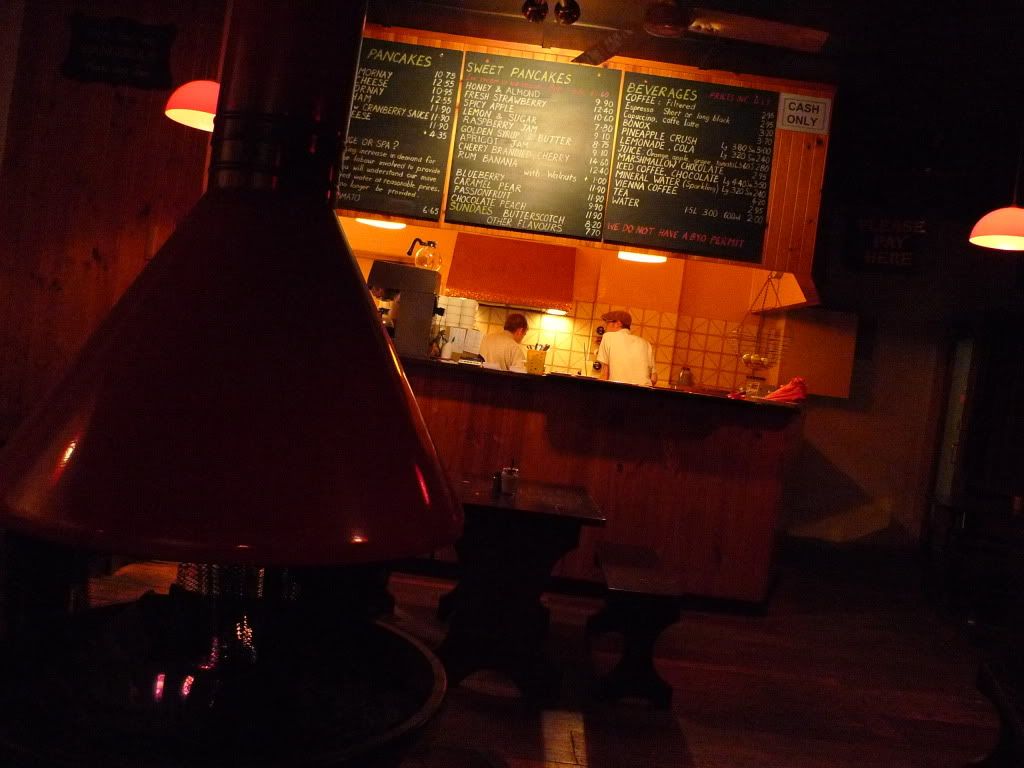 The old-school firewood place to keep us warm. The friendly staff even asked us if it was warm enough, whether he should add in more wood to increase te temperature of the room. Very thoughtful.
The menu is simply chalk-written on the blackboard. With the choice of savoury and sweet pancakes. Their wide varieties of pancakes includes the traditional maple syrup and butter combo to spiced apple to hearty cheese and chicken filled.
I always opt for the sweet ones. My favourite? Strawberry or blueberry pancake wit xtra ice cream. I'm THAT predictable. hehe
Add in a scoop of ice cream would cost u an extra $1.50.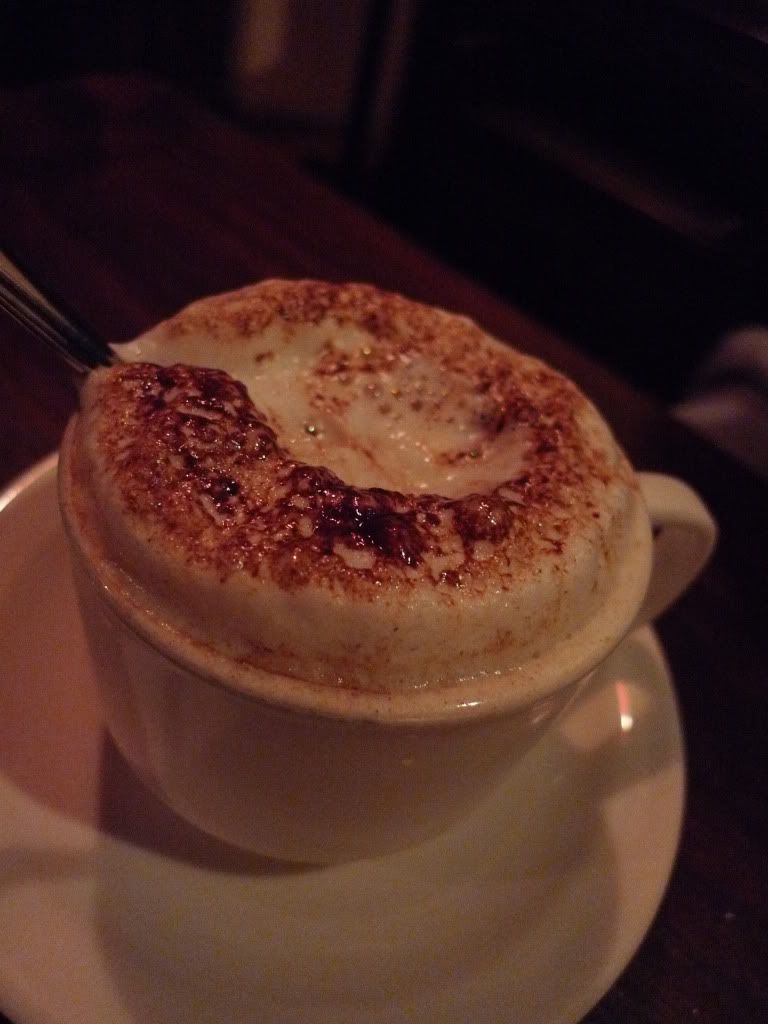 Hot chocolate with marshmallow- they're pretty famous for it!!
I personally DON'T drink hot chocoate of any form. I have a confession- i HATE Milo. Absolutely hate it. I know of a friend who would take a spoonful of Milo powder and just pop it in her mouth and calls it yummy.
Another MUST-TRY: -Pineapple crush. Taste very original, no artificial flavour and is absolutely refreshing!!
Pls do yourself a favour, the next time you're there, DO order the regular size. The small one is just so pathetically, well, small.
Shin Yee's savoury pancake- ham and cheese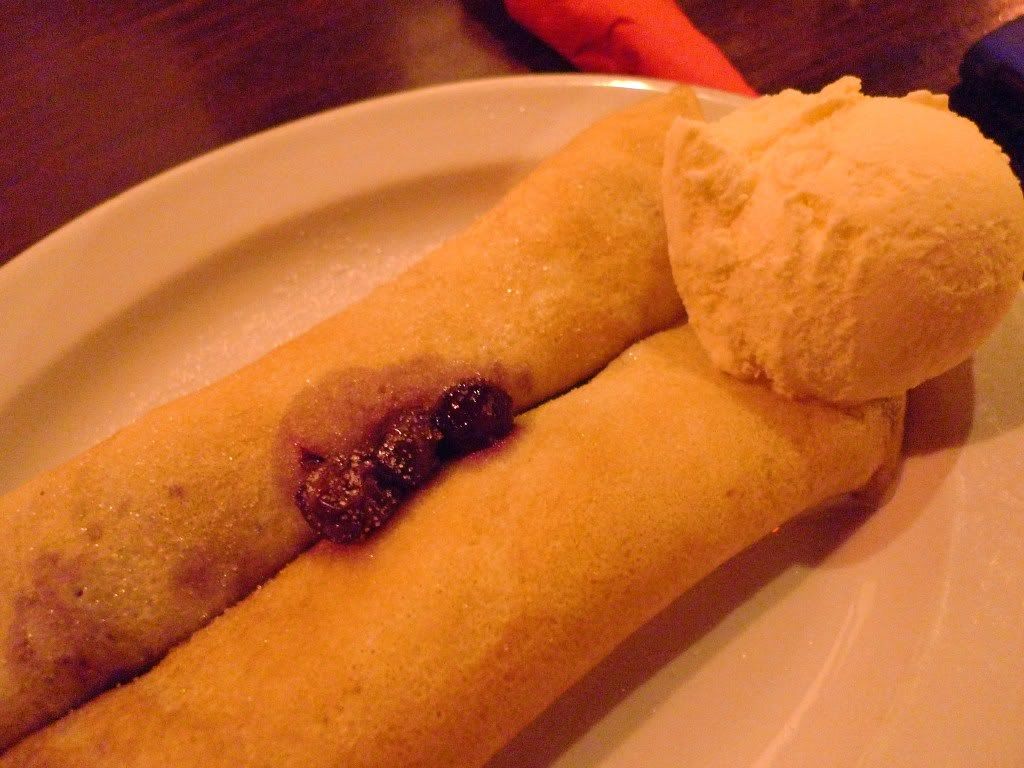 My blueberry pancake with extras. I love how they always serve the pancake warm, straight out from the oven!!
To be frank, the pancake is not gonna fly you to the moon or anything. It just the ambience, and the midnight snack craving that normally bring the customers here. And truth to be told, the pancakes here are priced at almost ridiculous price- $11 for the my blueberry pancake with an additional $1.50 for a scoop of (homebrand) vanilla ice cream?? You gotta be kidding right??
I can ask my "kakak" at home to make me 10 pancakes with however much of blueberry i want back in KL and i bet you the cost will not be RM30, not even close!!
But, we all know, desperate times call for desperate measure.
There must be something that keeps bringing back those regulars and being situated in a secluded place like this and still be able to survive throughout the years, you have to take your hats off to Stokers.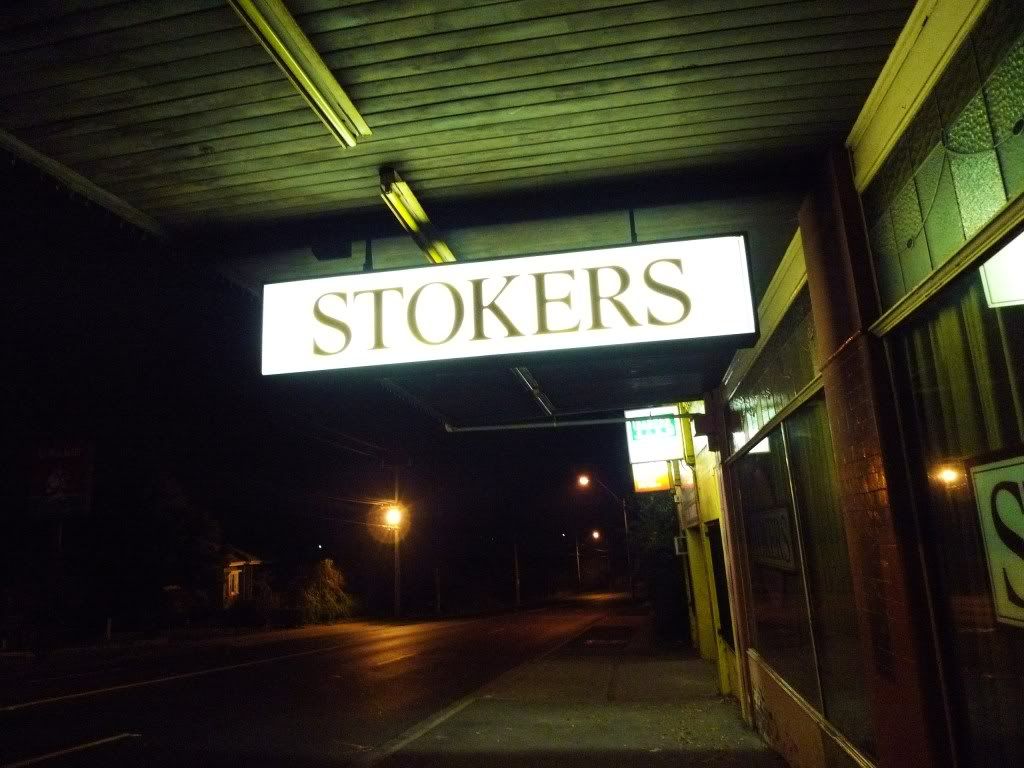 Who would have thought a totally decked out and poorly litted up shop that looks like an old country looking tavern turns out to be such a comforting winter warmer??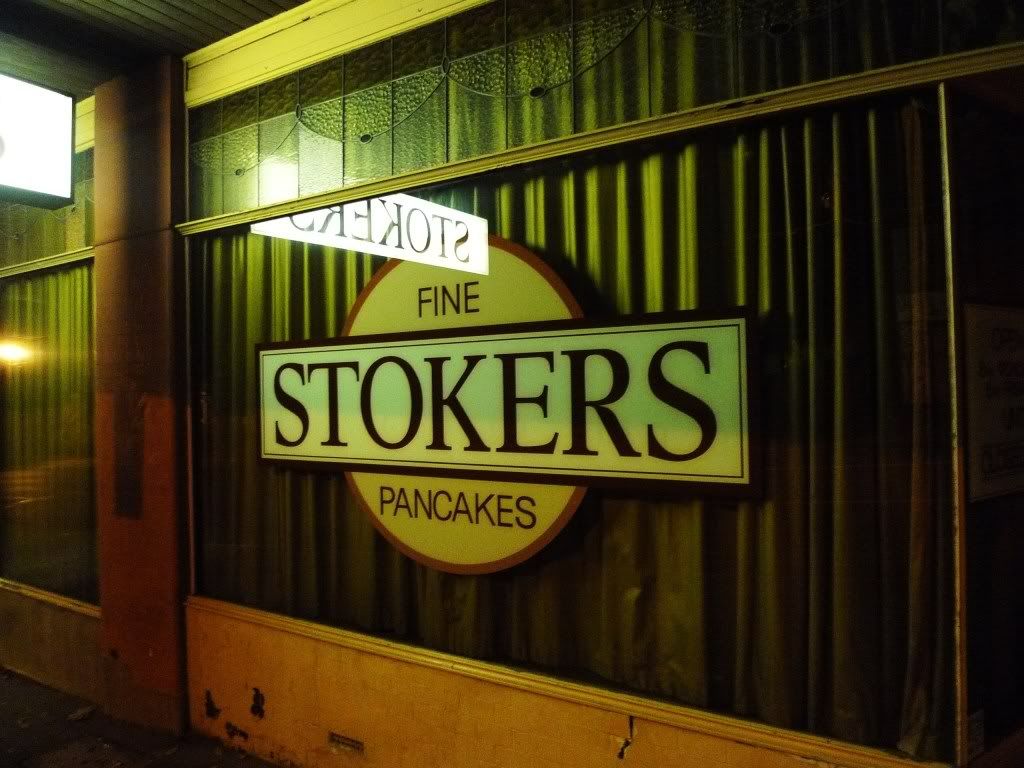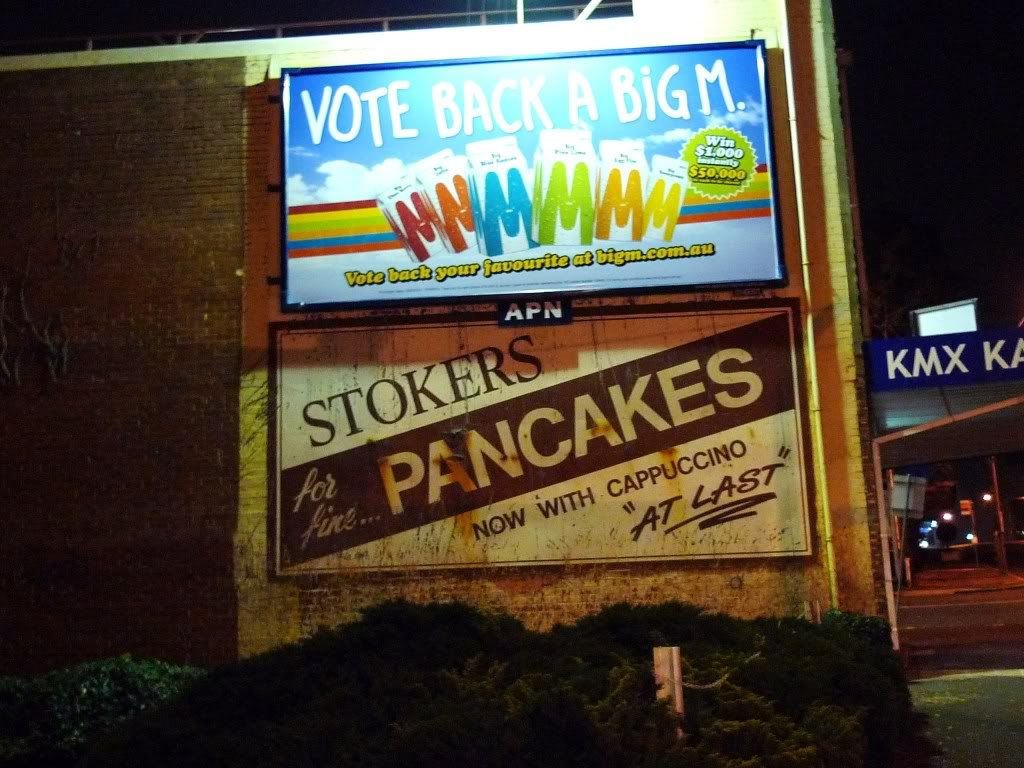 1033 Heidelberg Rd,
Ivanhoe VIC 3079
(Closes at 2am and Sundays)
Here's a catch
: Stokers only accepts cash, make sure you're "well equipped" as you wouldn't wanna be stranded in the middle of nowhere with no atm machines around. Probably have to stay back and wash the dishes to pay your meal off! hehe