Hi all, i'm BACK!!!I apologize for my long hiatus from Augustdiners. The last 2 months has been pretty hectic filled with semester exams and my winter break back in KL. Winter break means carefree and im on the loose, so by right i should be updating more right?? hehe i blame Jess for misplacing the memory card reader back at home, so it's (entirely) not my fault for being lazy ok! hehe
Excuses aside, i'm back here promising more
fine
(sorry, no money for fine food) good food to all
Augustdiners readers
!!
*fingers crossed*
teehee (don't i
ALWAYS
say that??)
Yet another breakfast place to introduce to fellow early birds.. As u already know, there will ALWAYS be a valid reason to get me out of bed before 12pm. So my reason today was to bring Cookie baby for her grooming appointment.
While waiting for princess, we googled up the nearest famous breakkie place and was sold by a cafe that goes by the name-
A Minor Place
.
I always have a bias perception that shabby home-firnedly looking breakfast place are bound to be good!!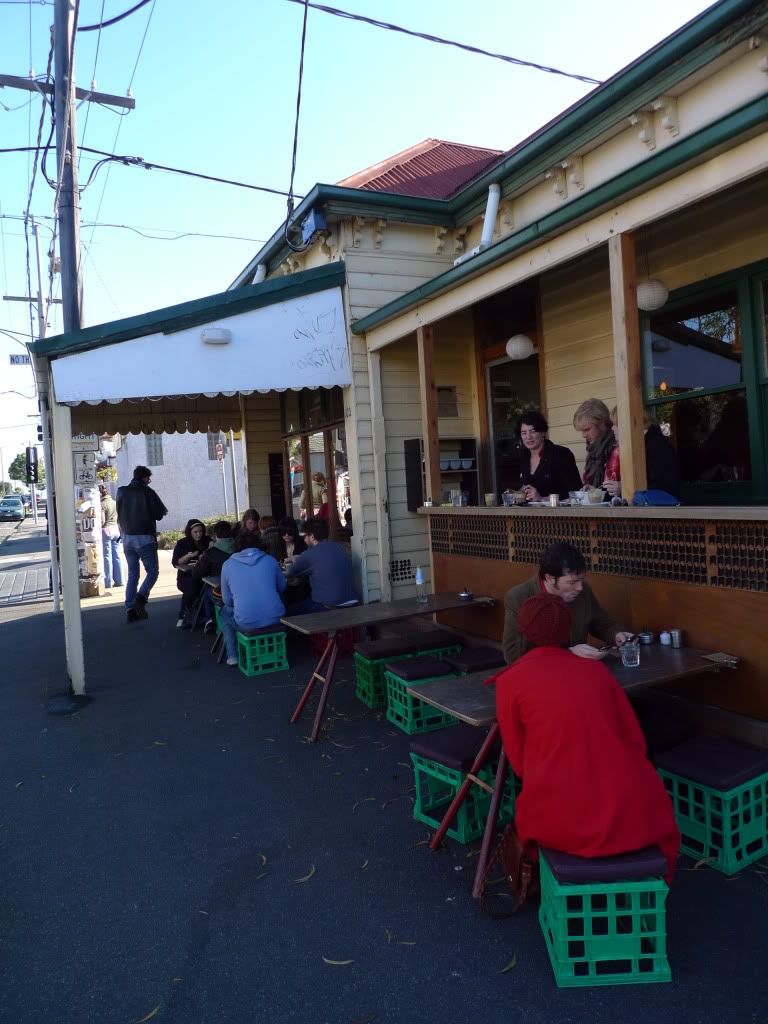 This place has a reputation of having attendants with stinky attitude cool and "indie", hippie customers.
Cladded in my combat boots and wayfarers, i was TOTALLY fitting in!!. Haha As if!! I felt a tad bit intimidated by those weird judgmental glares when walking into the confined little shed filled with locals, we were possibly the only asians, as though we were overtaking their turf.
Idiosyncratic and cosy shopfront, milk-crate seats, communal tables.. that's all we need to whip up an excellent breakfast spot!!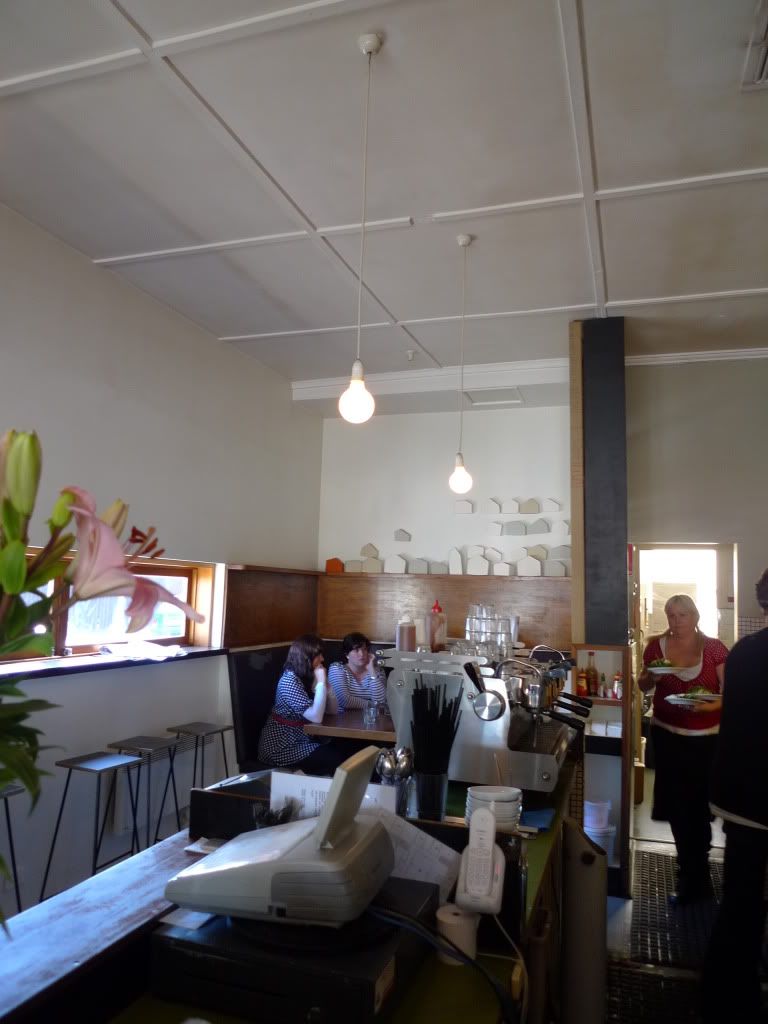 The entire cafe is not bigger than 2 of your average living room, making it super busy and amplified with chatty buzz at peak hour!!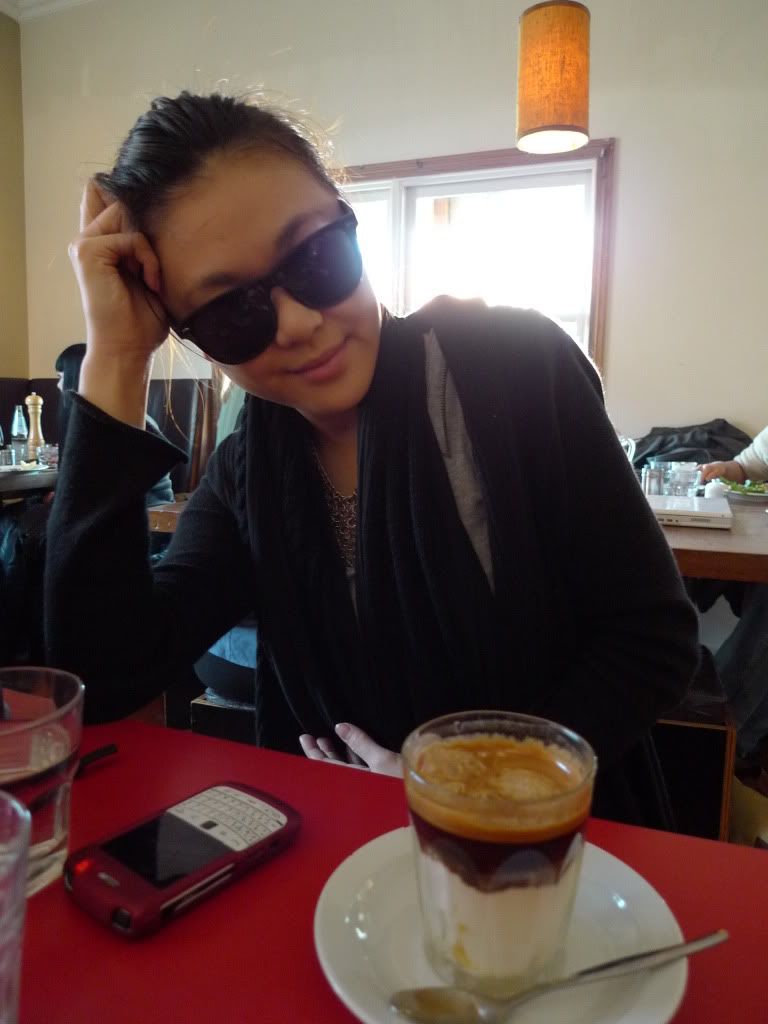 Loving those shades that hides my hungover face and 4-hours-of-sleep eyes
Ordered an Affogato for a change (Cafe Latte being my regular) but was thoroughly disappointed. The coffee had this unpleasant acidity and sour sensation that was impossible to swallow.
It's either they over-roasted the beans or served us with stale beans?? I might not be a good enough coffee fanatic to judge but this is DEFINITELY not something drinkable!! So i requested for a change.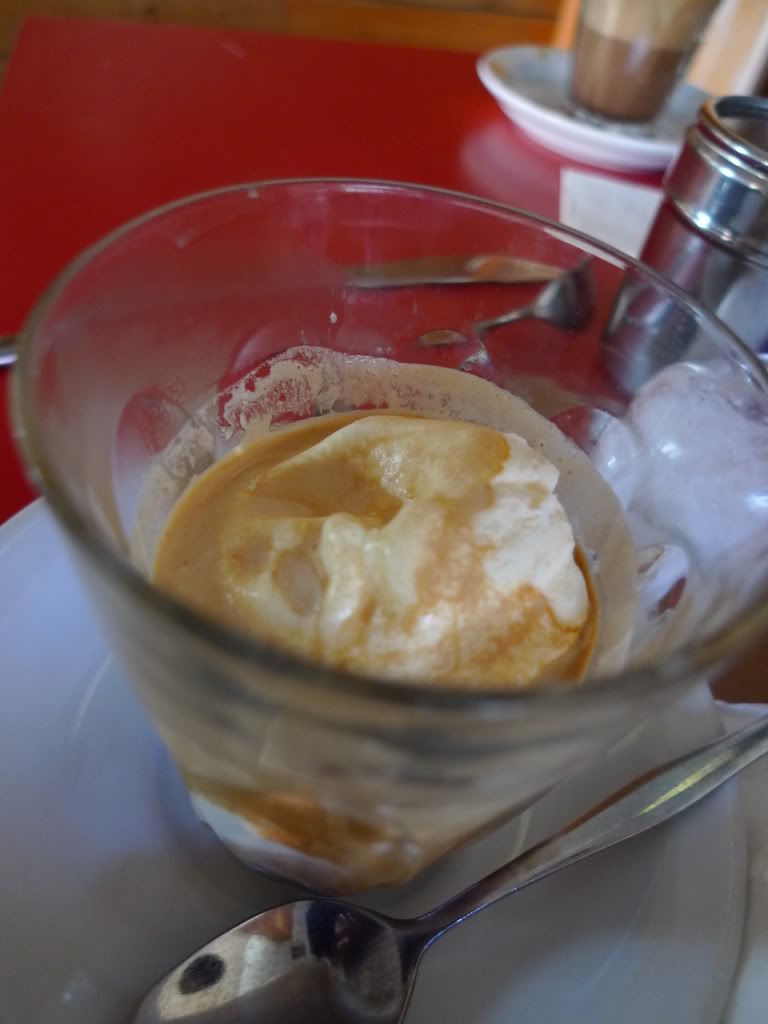 The second glass came in half the portion of the first one. But, equally bad.
I gave up and stuck to tap water in the end.. So much for all that favourable review on the coffee. Now now.. What went wrong???
Shin yee's Hot Choc wasn't half bad.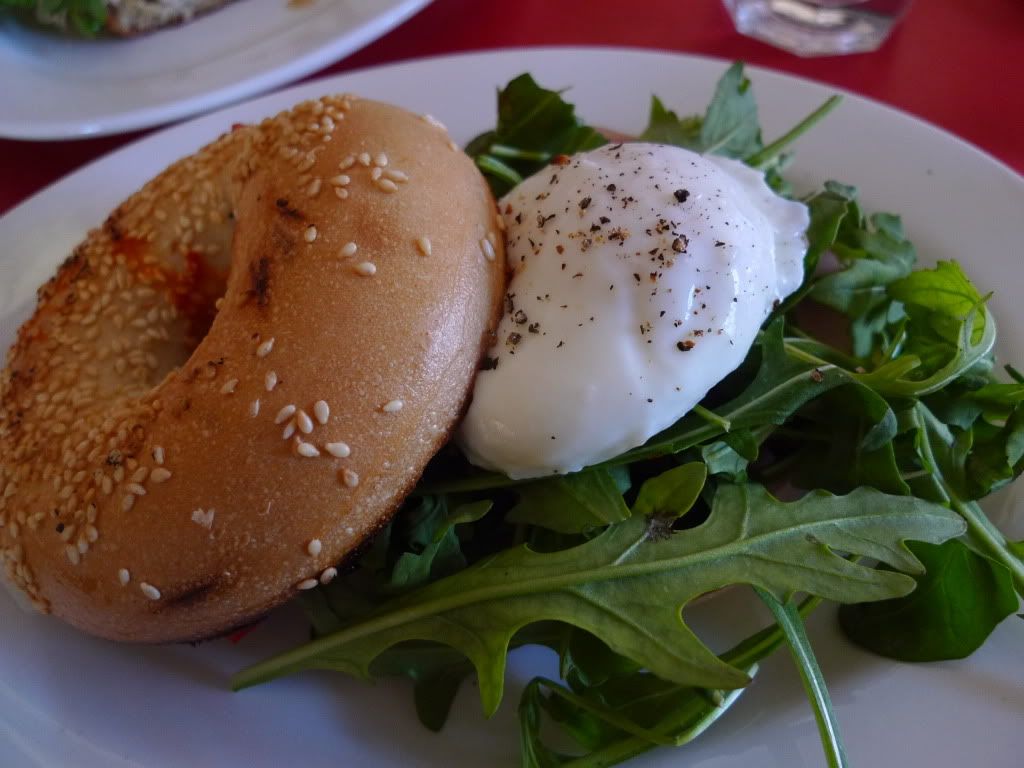 A Minor Place's menu was almost as normal as your next door cafe with a little in-house special.
My choice and i should really smack myself for trying to be different:
Bullseye bagel
– toasted bagel with grilled ham, spicy relish, rocket& a poached egg (9.5aud)
Bagel was stone-cold-hard, i hated rockets, poached egg was overly done.. One word: HORRIBLE!!! One would expect so much more after reading all that praise-worthy reviews.
Bad food + bad coffee + early morning = Bad mood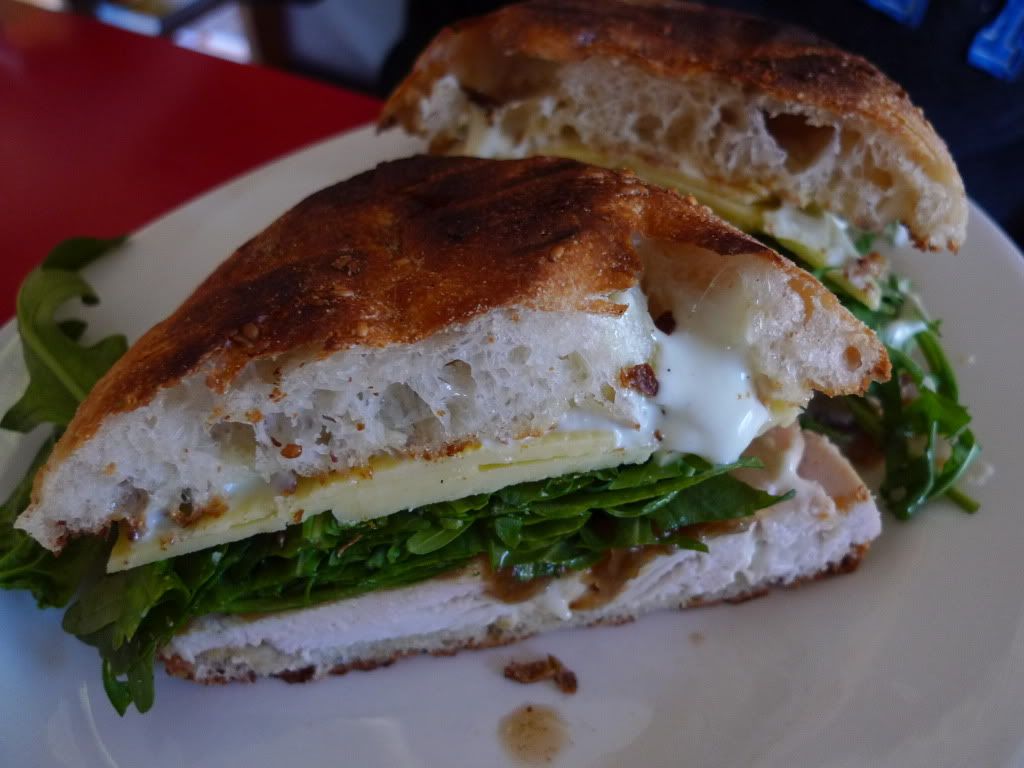 Shin yee's choice from lunch menu:
Chicken Sandwich- organic free range chicken w mayonnaise, swiss cheese, onion chutney & rocket on wholegrain (11aud)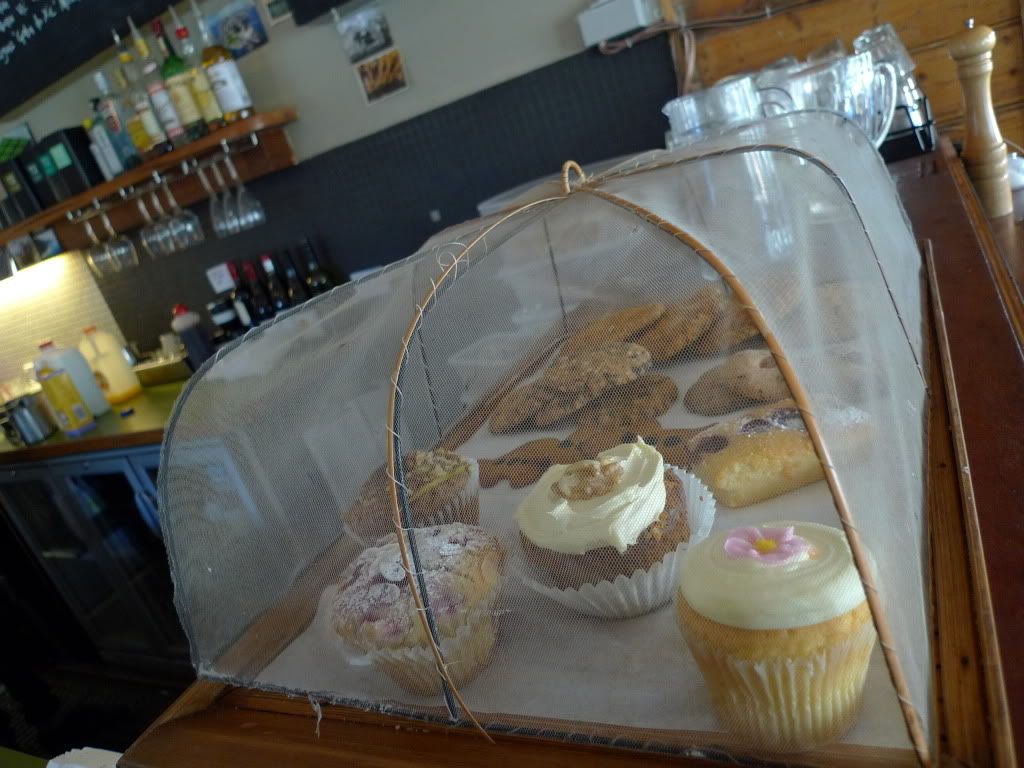 Freshly baked pastries and cookies for quickies .
Didn't manage to order those recommended by the reviews on the net.
Though i've had my first bad experience here, i wouldn't mind giving it another try the next time i bring Cookie for another grooming session. And let's crossed our fingers that they don't serve sour coffee next time around.
103 Albion St, Brunswick
03 9384 3131